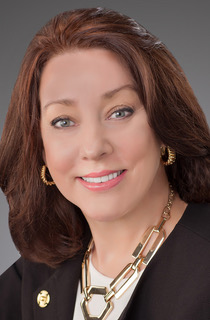 Laura E. Owen
Highly experienced corporate executive and founder of several companies.
She launched PontSalus, LLC, a telemedicine company that delivers medical consultations to underserved markets in the U.S., in addition to pier-to-pier consultations around the world, to facilitate access to leading U.S. specialists. Laura served as Interim CEO of Check-6 International, in Houston, Texas, where she successfully completed a tactical turn-around of the company. Prior to this, Laura led a consulting company that advised international Ministries of Health, supporting the transformation of their healthcare systems by facilitating partnerships with best-in-class leaders in U.S. healthcare.
Laura was Co-Founder, COO and President of ICOP Digital, Inc. (NASDAQ: ICOP), a company that engineers and markets mobile video products for first responders, worldwide. She holds (issued) patents pertaining to live streaming video for first responders. As Kansas Secretary of Commerce, she led international trade, industrial development, and tourism. She was the Midwest Regional Branch Manager for Stephens Inc., the largest investment banking firm in the U.S., off Wall Street. Laura has served on the Board of Directors of several corporations, universities, nonprofits, and Federal and State boards.
In 2007, Laura was selected for the coveted "Women Who Mean Business" award in Kansas City, and was honored to be named one of the most "Influential Women" in 2009 by Kansas City Business magazine. Laura holds a Bachelor's degree in Business Administration from Delaware Valley University (Philadelphia, PA). Laura and her husband, Dave, live in Olathe, Kansas USA.
Get in Touch. Get Involved.
Let us know how we can help. Have questions, feedback, concerns send us a message using the form below. If you would like to volunteer please click on the Volunteer menu item. 
7301 N 16th St, Suite 102, Phoenix, AZ 85020