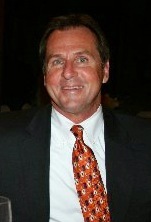 Jim's career in High Tech started in the adolescent years of Silicon Valley. During his tenure in Northern Cal, he engaged in data center optimizations, IBM 3480 data center conversions, disaster recovery modeling and software product deployment strategies for many of the pioneer companies in Silicon Valley.
The relationships he built on the west coast spring boarded him into the Networking side of High Tech with the advent of IP Networking and the Internet. He was very fortunate to have had the experience of working with FORE Systems. FORE was one of the first companies to commercialize ATM Switching technology. It was during his time at FORE that he participated in building the Arizona Telemedicine Program. FORE ATM switches were the backbone of the Program's network design.
Jim left FORE to become a part of the Nortel Networks Optical Switching Platform (OPTERA) team. This team introduced the power of 'carrier class' optical networks to the enterprise space in the US. Deploying these powerful architectures changed the Storage Area Networking and Disaster Recovery landscape for enterprises, among many other benefits.
Since Nortel, Jim has spent the last 20 + years in the video surveillance/video analytics solutions world. He has been working with enterprises and their solution providers deploying best of breed technologies to:
1. create safe work environments
2. mitigate corporate and public risk
3. leverage analytics to solve business problems and create ROI.
Critical to making the aforementioned work is making sure the right Network and IT infrastructures are in place to support and optimize the performance of these applications.
It is a fascinating field and space, wrought with many technology dynamics and a fluidity that challenges even Moore's Law!
It is truly a blessing to have been a part of the organizations at the forefront of these technology developments AND to bring all these experiences and relationships to the World Nehemiah Project. We have some of the best minds in Telemedicine, Distance Learning and Networking behind all that we endeavor to do.
Get in Touch. Get Involved.
Let us know how we can help. Have questions, feedback, concerns send us a message using the form below. If you would like to volunteer please click on the Volunteer menu item. 
7301 N 16th St, Suite 102, Phoenix, AZ 85020